Save Now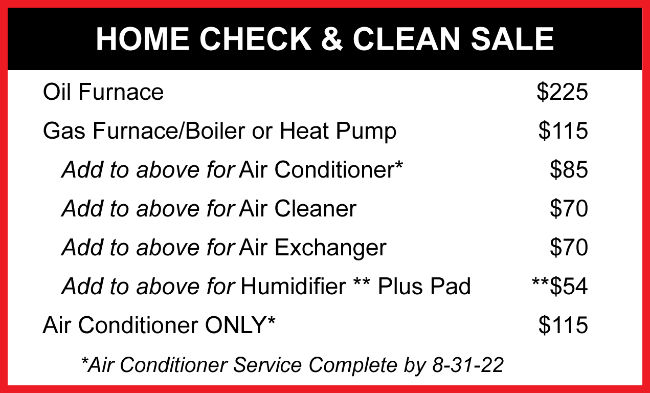 Spring Home Clean & Check
Manufacturer Recommends Annual Maintenance for Extended Warranty
Additional charge for specialty filters. Certain restrictions and exclusions may apply.
Call for details.
*Air conditioner service to be completed 8/31/2022
Service Scheduled by September 30, 2022
The Benefits of Having Your Heating and Air Conditioning Equipment Regularly Serviced Are:
Improved Efficiency & Operating Capacity
Lower Utility Costs
Prevention of costly Breakdowns
Extended Equipment Life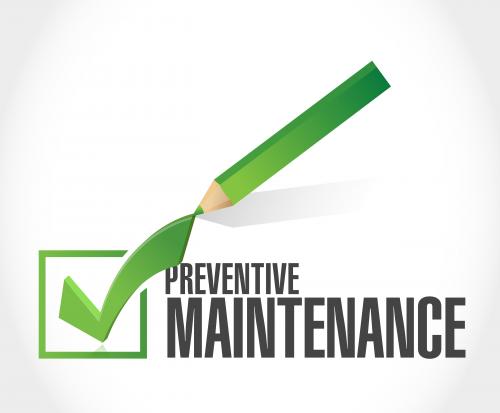 Check List for Residential Check & Clean
GAS FURNACE
Change air filter (1" filter included - additional charge for specialty filters)
Remove & inspect/clean burners
Clean trap
Check termination
Check pressure switch lockout
Check blower wheels for cleanliness
Check condensate hoses & components for leaks
Check components for corrosion
Clean flame sensor
AIR CONDITIONER / HEAT PUMP
Clean condenser/clean debris out of bottom of condensing unit
Oil motor if needed
Check & tighten electrical connections
Check contacts on contactor
Check refrigerant pressure
Take temperature drop
Check refrigerant charge by superheat or sub-cooling method
OIL FURNACE
Change nozzle, oil filter cartridge, and air filter (1" filter included - additional charge for specialty filters)
Check flue pipe
Check chimney cleanout
Check and oil motors (blower & burner)
Check adjustment of electrodes
Clean heat exchanger
Check condition of combustion chamber
Check condition of burner coupling
Check venting of flue products
Check condition of flame retention head
Check flame and flame safety lockout
GAS WATER HEATER
Check pilot safety drop out
Check pilot positioning and flame
Clean corrosion from flame spreader if needed
Vacuum bottom pan
Check T-stat operation
POWER VENT WATER HEATER
Oil motor if needed
Clean burner
Check vent termination
Check pressure switch tubing
ELECTRONIC AIR CLEANER
Clean electronic cells and pre-filters
Check electrical connections on power pack
Check condition of contact plates
AIR EXCHANGER
Clean heat recovery core
Clean filters
Clean trap
Oil motor
Check blower wheel for cleanliness
HUMIDIFIER
Check shut off valve
Clean pan
Clean float and check operation
Clean distributor
Change pad
Check humidistat operation
Call today to schedule your check and clean appointment!